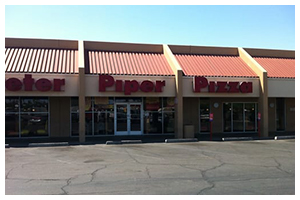 OUR FIRST PIZZA IS SERVED
On 11/28/73, Anthony "Tony" Cavolo, a WWII veteran and Brooklyn, NY native, opened his first Peter Piper Pizza in Glendale, AZ. Tony's vision was a neighborhood pizzeria serving high quality food at reasonable prices, in a family-friendly atmosphere.
Tony stars in the first of many television commercials spanning more than two decades, wearing his trademark apron and chef's hat. His "come on over" catchphrase would soon become as memorable as Peter Piper Pizza, itself.
We opened our first Tucson restaurant – our initial venture beyond the Phoenix area. This is also the year we added games to our family restaurant experience.
We opened our first Texas Peter Piper Pizza in El Paso. Today there are 49 restaurants across Texas.
What a way to end the year! The Peter Piper Pizza concept soared in popularity with Baby Boomer families. On New Year's Eve we opened our 100th Phoenix location.
We opened our restaurant south of the border in Ciudad Juárez. Today there are 48 Peter Piper Pizza restaurants throughout Mexico.
On 7/8/06, Tony Cavolo, our founder, passed away at the age of 83, leaving a legacy of great family gatherings. The Cavolo family still owns and operates a restaurant in Scottsdale, AZ.
We celebrated our 40th year in business by launching Peter Piper 2.0. It's the evolution of the everyday dining experience to meet the needs of Millennial families.
Peter Piper Pizza expands into new markets including reentrance into Oklahoma City. Still today, 43 years from when it all began, Peter Piper Pizza continues to honor its "made from scratch pizza" roots (Tony would be proud!)
Meeting the needs of the community, Peter Piper Pizza opens small box locations with an emphasis on carryout and delivery. Whether it is a cozy movie night at home or an impromptu home pizza party, Peter Piper Express makes it easy to pick up or schedule for delivery.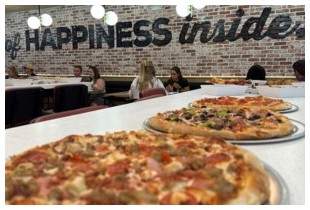 Peter Piper Takes Kansas City
We're bringing the crafted dough that's made from scratch, in-house daily on the road to Kansas City with Peter Piper Pizzeria. Guests can experience the revolutionized dining adventure, crafted to the demands of Gen Z families within a sleek laid-back atmosphere.
Celebrating our 50th year in business, we harken back to our roots from 1973 continuing to honor delicious made from scratch pizza, our energetic game rooms and Tony's signature "come on over" catch phrase.